Separable Outer Ring For Inner Ring Rotation Cross Roller Bearing RA Type
Separable Outer Ring For Inner Ring Rotation Cross Roller Bearing RA Type
CHG

LuoYang, China

5-7days

800pcs/month
HRA series cross roller bearing characteristics:
1. High precision: P4 precision, P2 precision.
2. High rigidity: This series bearing have preload.
3. High load: This series bearing can bear double-direction axial load, radial load and tilting moment.
4. Small size: This series bearing can save space for machine tools.
RA Crossed Roller Bearings
Specification

Inner Diameter: 50-200mm
Outer Diameter: 66-226mm
Width: 8-13mm
Weight: 0.08-0.71kg
HRA series (two- -divided outer ring, rotation inner ring, ultra- -thin type)
This series is the compact HRB type of crossed cylindrical roller bearings with limit thickness of inner and outer rings. As HRB series, they have a two-divided outer ring, and are especially suitable for applications with weight reduction, compact design, and high rotation accuracy of inner ring, such as rotating portions of the robots.
The application of Crossed roller bearing
Crossed roller bearing are widely used in industrial robots, CNC machine tools, reducers, printing machinery, medical equipment, accuracy measurement and control equipment, communication radar antennas, optical equipment, and etc.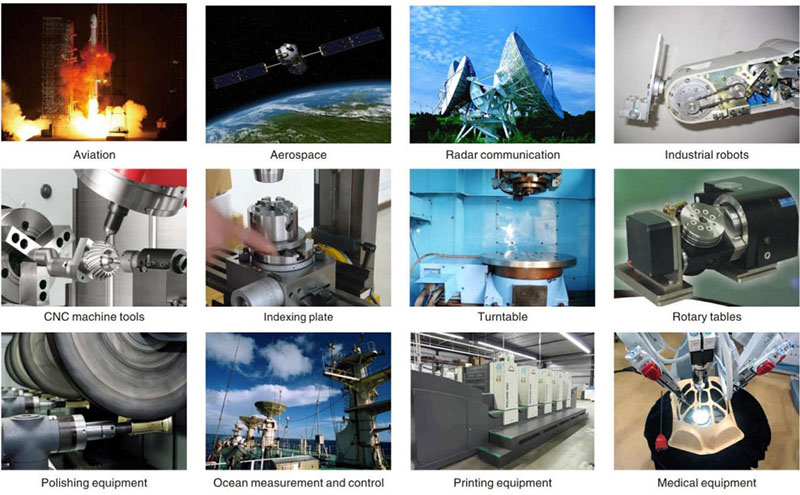 The package and delivery of corssed roller bearing